Christmas is in the air above the red brick cobblestones and inside each of the many Victorian era heritage buildings in the Distillery District until Dec 16th 2012; there's a wide selection of hard-to-find goods and services associated with the season at the third annual Toronto Christmas Market.
The 2012 Toronto Christmas Market is distilled from the old school European – style festive organization that brings together culturally rich family entertainment including musicians, carolers and children's choirs. These markets originated in Germany, beginning in the early 1400?s, and are now being held in many countries all over the world, and this is arguably Canada's biggest and best example. You can follow the Toronto Christmas Market on Twitter @TOChristmasMkt
This is a world class shopping destination. The stuff sold here is very rare and special as merchants must apply and are selected by jury for the right to sell unique products all along the different streets. The Distillery District is playing host, for the third year in a row to this festive extravaganza that is expected to bring three hundred thousand people to the compound.
Lowe's 2012 Toronto Christmas Market has a photo contest and you could win $250 cash or dinner in any of three world class Distillery District Restaurants!
Check the 2012 Toronto Christmas Market Photo Contest on Lenzr, or visit the Toronto Christmas Market website.
Sponsored by Toronto.com, this photo contest allows attendees to compare notes. Last year this same call-to-action collected over 300 pictures, which in turn accrued over seven thousand votes as folks laboured to get their pics up into the Top Ten to be eligible for the grand prize.
Prizes for the 2012 competition are as follows,
Winner will receive a $250.00 cash prize,
2nd place will receive a $150.00 Distillery Restaurant gift certificate
3rd place will receive a $100.00 Distillery Restaurant gift certificate.
RULES
Upload original photos now and until December 25th
Voting begins December 15th and ends midnight Dec 25th
Top ten images advance to judges. *Sponsor is Judge, Here is a link to the Term of Use page unique to this contest. Winner announced on Lenzr blog Jan 1st 2013. Lowe's 2012 Toronto Christmas Market event runs from Friday Nov 30th to Sunday December 16th, 2012 at The Distillery District, Must Be 13yrs older to enter – gift certificates and cash prizes will be mailed anywhere in Canada only. Good luck!
On December 1st 2012 Niagara Falls will play host to a unique downhill race on skates sporting event called 'Crashed Ice', and this city on the USA Canada border is the first stop of the 2013 Red Bull Crashed Ice Tour.
This sport is also called Ice Cross Downhill and it started life as just another winter extreme sport in 2000 – but then Red Bull got involved and the sport took on a life of its own.  The rules are the same today and the rules are simple; four racers on skates hurl themselves down five hundred meters of frozen ice and ramps in an urban environment. The first competitor to cross the finish line wins the race!
This sport is brand new because we've never had the refrigeration technology or equipment like this to be able to make the course so affordable before this modern age. The biggest cost for such an event is the construction of the frozen track itself. The sport is popular because it offers another chance to hockey players whose NHL dreams are unfulfilled. Now they can use their skating skills for something totally unique. Read more about Crashed Ice on this Niagara Falls blog. Below is the course that has been set up for Dec 1st event which is the start of the 2013 Crashed Ice Season.
2013 race calendar will start with the opening event in Niagara Falls, then continue through the United States, Russia, Switzerland, and end with the big finale in Quebec City. Although this extreme event attraction gets a lot of international attention and has a wide audience in Europe and Asia, its a very Canadian creation and we're proud of the fact that current World Champion Kyle Croxall, is from Mississauga, Ontario. He will be defending his title.  You can see Kyle and his brother Scott in this video,

Check the official tour website for more information. Book a hotel in Niagara Falls online now or check out our list of dining and accommodation packages to make the most of your visit. There's lots of capacity in Coco's bar and if you went early enough you could most likely get a table on the patio terrace which should offer a wicked view.
The photo below is from 2008 when fans had unprecedented access to the competitors – the track side seats could literally reach out and touch players as they sped past. That level of access is rare in professional sports and really rare for extreme sports.
The racers look like hockey players and wear similar helmets and padding. There has been some speculation that ice hockey could evolve ramps and speedier sloping corners because of the success of this sport.
Not only has Red Bull sponsored the event, but they helped create it and raise it up to the popularity it enjoys today. Hockey players love this new skate racing sport and there's some good discussions about Crashed Ice on Canadian sports forum and more about Crashed Ice in Niagara Falls on this NHL hockey forum because they have nothing else to rant about except the NHL strike.
Although this is a free outdoor event for thousands of spectators, there is also a VIP premium indoor viewing area. The Red Bull sponsored 'Crashed Fan Zone' will open its doors at 6:00 pm and provide ticket holding spectators with an unparalleled view of the proceedings, and an insider experience. DJs will be setting the tone for the evening and they will be the first to toast the victory of race winners, probably just before 11pm.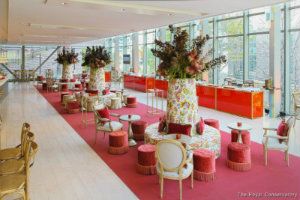 I had the honour of attending Event Showcase Night at The Royal Conservatory's Telus Centre. It was an evening specifically for Event Planners to showcase the glorious hall and various reception rooms. The Telus Centre has an exclusive list of suppliers that commanded our presence that evening. My Uber black car pulled up to 273 Bloor Street West. I walked down a long aisle to be greeted by polite and professional wait staff carrying warm up drinks of some pomegranate coloured, sweet and sour with a splash of sparkling bubbles. I continued down a long hallway (regrettably in my stilettos, albeit it was a walk that entwined both romance and modern art that made the walk oh so spectacular. One wall was composed of a brick wall and a glass enclosure on the other, humbly overlooking the atrium, home to the b'espresso bar, where you will see students mingling amongst classical repertoires.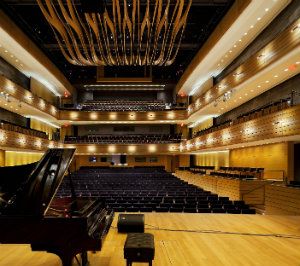 There was a long bar that seemed to run forever outside Koerner HallHall. The bar was built without fridges! Apparently the architects decided that a set of buzzing fridges and noisy ice makers would conflict with the orchestral acoustics in the hall. How brilliant! Libations are kept in buckets of ice that must be refilled regularly.
 A group of exclusive, yet diverse vendors were lined up on the circumference of the main lobby. Behind each vendor, their company name was discreetly but creatively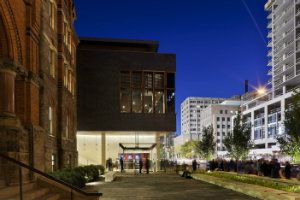 displayed in white font, and appeared to be floating, on the glass window behind them. How tasteful.  Only the finest samplings were provided. It was not your usual chicken on a stick or spring roll offering. There was melt in your mouth, fork tender beef ribs carved in the creamiest polenta ever. There was fois gras stuffed cornish hen. Clearly no expense was spared. But wait, there were also lobster rolls stuffed in those bite size half moon, mini white bread concoctions.
 A beautiful jazz trio, dressed in tuxedos played in the corner of the glass enclosed hall. Could the evening be any more perfect?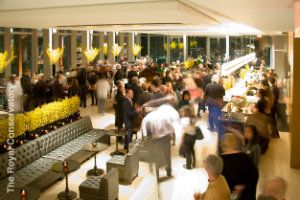 You can rent one of the three floors but why would you? Go big or go home and rent the entire venue. It's a must for your special occasion. Except, all in, it starts at about $50, 000 as you must rent each individual floor and bring in caterers and décor and tables and chairs. Is it worth it? Absolutely.
 If you're looking for a gorgeous venue and your budget has lots of room for incidentals, consider the breathtaking Telus Centre. And put me on your guest list.
The Royal Conservatory, TELUS Centre for Performance and Learning
273 Bloor Street West, Toronto ON M5S 1W2
Save the date!!  
The event was for the relaunch of the design exchange, Canada's Design Museum, 234 Bay Street. The event date was on November 16th 2012, from 8 pm.
They had:
- Interactive design installations,
- unexpected interventions,
- creative culture,
- live music,
- DJS,
- Celebrity chefs,
- VIP experience.
The DX's annaul fundraiser supported DX Youth Education Programs.
For more information : www.dx.org
This year marked the 18th annual Toronto Festival of Beer (TFOB) at Bandshell Park at Exhibition Place. The Toronto Festival of Beer, which was on July 27 to 29, 2012, featured an astounding selection of beer, great food and amazing entertainment! This year,  CityEvents supported the Moosehead Beer Tent logistics, and helped celebrate Moosehead Lager Canada's oldest independent brewery, crafting premium beers since 1868.

Past attendees said goodbye to the plastic sampling cups, which were replaced  commemorative TFOB glass steins. The Moosehead Beer tent featured nine products including Moosehead Lager, PaulanerKap, Magners, Tennents Lager, Twisted Tea and Cracked Canoe.
The sun was shining bright on the man-made cottage deck. Moosehead provided branded sunglasses to shield attendee's eyes from the sun while they lounged, beer in hand, on the large Muskoka chairs. The staple of the Moosehead tent was a 700-pound Muskoka chair. Attendees could not pass by without grabbing the opportunity to take photos with this unique feature.
Are you a festival foodie? There were lots of food options for attendees, including the "Napoleon Gourmet Grills Grilling Tent". This tent showcased some of the top culinary artists in the Greater Toronto Area. There were also tons of food truck favorites such as Caplansky's, RockLobster and Oyster Boy.
Although the main focus of the festival was the beer, the exceptional entertainment elevated the event from an average beer tasting to a world-class festival.  Moosehead was no exception, and featured many bands such as the Junction, The Dirty Nils, Organ Thieves, Dinosaur Bones, and Modern Superstitions.
We can't forget to mention the DJ'sKevin Bailey,Alex "Kid MK" Tribe, Cal M  from salacioussound that made the Moosehead tent the place to be and kept attendees dancing until the final minute. . The main Beer Festival stage featured headlining musical acts such as Salt-N-Pepa, and the Big Wreck.
The TFOB also offered a Girl Guided Beer Tour, which gave women an opportunity to learn and sample five different types of beer, while learning about women in the industry.
Tickets for Toronto's Festival of Beer sell out in advance every year and this year was no exception.  TFOB saw full attendance both Friday and Saturday! Don't forget to get your tickets early next year!
Looking forward to seeing you next year, in the meantime check out CityEvents coverage of the  Moosehead Tent at the Toronto Festival of beer:  http://bit.ly/SstVyE or our photos on Flickr: http://bit.ly/NnOTYJ