(click to view more pictures)
Another FastLane Networking event took place this month and this time, guests were able to mix and mingle outside Marben Restaurant's patio.With beautiful weather, sophisticated ambiance, deliciously served hors d'oveurs and drinks, FastLane attendees were once again provided with many abundant networking opportunities.
Throughout the evening, Mambacho Cigars promoted their high-quality Nicaraguan cigars and great prizes were raffled off from a variety of participating sponsors.The patio was the perfect fit for easy networking and conversing with people from a number of professions.As the sun set, trendy young professionals, ambitious business owners, and even university alumni students gathered closely to exchange ideas, tips, and knowledge allowing them to accelerate their careers and expand their social network. All those who drove in the FastLane with us this month received a jam-packed gift bag at the end of the night and were marking their calendars for next month's summer FastLane.
Photos were snapped of the event and can be available for viewing at www.fastlaneevents.ca.
Here are some photos of the event: http://www.flickr.com/photos/cityeventstoronto/sets/72157621436751089/
Please take the time to complete our short survey so we can make our FastLane events even better and help you reach your networking goals!
Here are some photos of the event: http://www.flickr.com/photos/cityeventstoronto
City Events Proudly Supports Lenzr
a new photo contest website allied with Toronto City Events.
This urban photo challenge website awards real prizes to real people who upload good pictures. User submitted media is judged by visitors to the site, and the membership.
Lenzr is a win win win website. The online contest scenario lets any local business sponsor contests and award prizes to gain market advantage in a specific city. Photographers gain exposure and links and the chance at winning cool prizes. And the public gets free online entertainment, coupons and access to archives full of great local photos. Someday soon the site will allow members to make calendars and postcards. There is already a Lenzr photo contest widget that decorates the sidebars of some popular Toronto blogs.
SEPTEMBER CONTESTS
Ontario Tourist Attractions photo contest on Lenzr is sponsored by Kanetix.ca insurance & mortgage rate quotes, and is a search for pictures that celebrate of our province's most interesting destinations. This web challenge asks users to upload scenic shots of small town main streets, beaches, museums and monuments.
How about shots of the CN Tower? Or the Hudson's Bay Trading Post in Moose Factory?  Submit shots of the steam train in Totenham? Added together with the location information, the 140 character caption beside each photo should somehow capture the essence of people enjoying the great outdoors in the Province of Ontario.
Ontario Tourist Attractions photo contest commenced Sept 2nd 2009, and will end at 12:01 am on the morning of November 1st 2009.
The Prize is what everyone most wants, and almost as liquid. There's a $200 value first prize, followed by a $100 second prize unit.
SUMMER CONTESTS:
The website provides compelling entertainment that contest sponsors recognize as good interactive storytelling. Three events launched in July, and will end midnight August 31st 2009.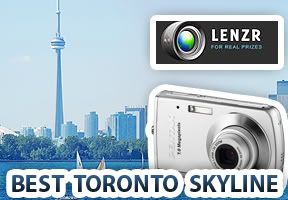 Upload pictures of the Toronto skyline from interesting vantage points, and you could
win a Pentax Optio P90 compact camera courtesy of Lenzr, a Toronto based photo contest website, that will someday be 'local' in every city across Canada.
Lenzr.com hopes that someday people will come to their archival image library and search for cool local photos from local photographers. The site also intends to build a hall of fame component that showcases the most active photographers and rewards the folks that consistently upload the best and most popular images.
This basic Lenzr.com photo contest asks the people of Toronto and anyone living nearby to take pictures of the skyline from interesting and unusual vantage points. Let's see the mega city from all directions.
Pentax Optio P70 compact digital camera is prize for Best Toronto Skyline shot.
12-megapixel camera has a wide-angle 4x optical zoom lens which is the equivalent of a 27.5-110mm zoom lens. It has a 2.7-inch LCD on the back and something called Advanced Face Detection, with Smile Capture built into the software. It even has  Blink Detection. The camera features the latest Pixel Track Shake Reduction "to assure sharp images with low noise even in poor lighting." And it shoots video too. The Optio P70 can also capture 720p HD video at 15 frame-per-second. All three Contests end August 31st 2009. And the prizes are awarded at everyone's convienence in September. The event periods in Lenzr are two months long, so there will be three more contests and three more prizes on September 1st.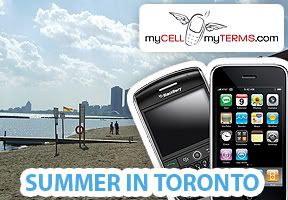 This challenge invites local photographers to post pictures of the megacity experiencing summer in some fashion. The contest is so wide open in hopes that it will engender some 'phone camera' photos. Perhaps pictures from Caribanna will be popular soon? (But will there be shots of garbage in the streets?) How about shots from the volleyball games on Cherry Beach? or Ashbridges Bay or any of the activities at Sunnyside Pavilion?

What does this warm and sunny season mean to you?
The event seeks to index images that warm viewer's hearts in the cold drab November thru March months, and make them reflect back on their own memories of July and August in this exciting city.
On July 14th FastLane held its fifth event of 2009 at Marben Restaurant. Guests came out and enjoyed the warm weather while networking with many interesting people from an array of different professions.
A mix of great food, yummy martinis, fresh juice cocktails and a fantastic street side patio all helped put guests at ease and made them ready to have a fun night of mingling with other young professionals.
Once at ease guests met new people, traded tips and made beneficial contacts in a trendy modern atmosphere.

Patio Season has arrived, so we took our networking outside! Guests came out to Marben Restaurant on July 14th to enjoy the warm weather out on the patio, while networking with many interesting people of all different professions.
Attendees enjoyed a mix of appetizers, martinis, fresh juice cocktails and a fantastic street side patio all helped put guests at ease and made them ready to have a fun night of mingling with other young professionals.
Once at ease guests met new people, traded tips and made beneficial contacts in a trendy modern atmosphere.
Don't miss out on this easy way to expand your network by connecting with other businessmen and women. Since it will be on a patio, you won't feel the pressure of a work meeting and have to deal with all of the usual formalities. Attendees will feel at ease, as this event will be taking place at a relaxing environment, and won't find it hard to start up conversations with others.
Join us at Marben Restaurant, located between Spadina & Portland, to enjoy the great weather and meet new people. Marben features a trendy modern atmosphere, great food, and a street-side patio where you can enjoy martinis and fresh juice cocktails.
Cost: $25 in Advance, or $35 at the door. Group rates are also available.
For tickets, please visit: www.gettickets.ca
Remember to purchase your tickets soon, as space is limited.
*Your ticket includes a complementary beverage, hors d'oeuvres and a gift bag.
Location: Marben Restaurant – 488 Wellington St. W. (between Spadina & Portland)
Date: Tuesday, July 14, 2009
Time: 6:00 p.m. – 9:30 p.m.
Click here to join the FastLane Facebook Group.
Hosted by: www.torontocityevents.ca and www.GatheringsEventPlanning.com
Here are some photos of the event: http://www.flickr.com/photos/cityeventstoronto
Banking on Brand
How Sports, Arts And Culture Make Scotiabank Stand out
The Toronto Board of Trade invited listeners to learn and take part in thought-provoking discussions at the brand new event series, filled with great ideas and inspiring stories that impacted many young professionals.

John Doig, Head of Marketing for Scotiabank, spoke on how Scotiabank's marketing efforts are helping to position the bank as a stand-out in today's crowded marketplace.

Date: Tuesday, August 18, 2009
Time: 6:00 P.M. – 8:00 P.M.
Location: IVEY ING Leadership Centre, Exchange Tower, 130 King Street West
Visit bot.com/events or call 416.862.4500