It was the nerdiest party of the year.
The W-League at Andrew Richard Designs celebrated their official launch party – GEEK CHIC.
The idea was celebrated the countless achievements of the Weizmann Institute of Science.
The W League is a committee of young professionals focused on raising awareness about The Weizmann Institute of Science. Its name pays homage to the original Weizmann League, formed in the 1960s, whose original members still thrive as supporters.
The W League has 3 clear goals. Inform. Involve. Ignite.
1. Inform. Spread the word about the incredible work Weizmann is doing, their achievements and how they are helping to solve our planet's biggest challenges.
2. Involve. Create innovative opportunities, programs, events and fundraisers that not only spread the word but also "involve" current and potential members in the pursu
it of Science for the Benefit of Humanity.
3. Ignite. Fuel the natural excitement that occurs in all of us when we learn about what is possible through science and how Weizmann's cutting edge scientific discoveries are helping to ensure a better future.
Through a carefully curated series of social and networking events and programs, the W-League is committed to achieving these goals.
W-League Committee Members: Alexandra Woolf, Benjamin Goldstein, Dani Seligman, David Goldstein, Joanna Miller, Judith Benattar, Omri Stern, Jennifer Ralston, Sherri Klein, Lara Brady, Adam Zendel, Bryan Madorsky
W-League Co-Chairs: Corbin Seligman, Neal Dlin, Dustin Koffler
About the Weizmann Institute
The Weizmann Institute of Science in Rehovot, Israel, is one of the world's top-ranking multidisciplinary institutions. Noted for its wide-ranging exploration of the natural and exact sciences, the Institute is home to 2,600 scientists, students, technicians and support staff working on over 1,200 research projects.
Research efforts include the search for new ways of fighting disease and hunger, examining leading questions in mathematics and computer science, probing the physics of matter and the universe, creating novel materials and developing new strategies for protecting the environment.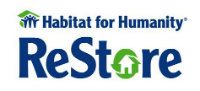 On September 29 and 30, 2012, the design district of King East will bring together the leaders in design and architecture and the design savvy public of Toronto to support Habitat for Humanity Toronto and want to bring awareness to their ReStore program.
Attendees will have the opportunity to obtain a passport by making a $10 donation to Habitat for Humanity Toronto.  This passport will chronicle their journey to the individual locations, where an interactive and educational design experience will be offered.
How will your support help?
The funds contributed from the King East Design will give a local family support in achieving home ownership. This includes the ability to the purchase materials needed to develop houses at Habitat's 4572 Kingston Rd build site.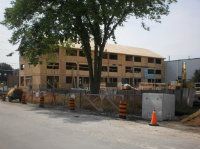 Will your support make a difference?
The donations collected from the King East Design District Exhibition will help make the homes complete for year-end. This means that families should be able to move in before the winter holidays!
How are these houses being made?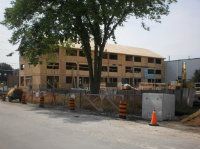 Funds donated through the King East Design District Exhibition and other great events like last weekends Fall Home show demonstrate to people a variety of ways they can support Habitat for Humanity Toronto. On way is to donate building materials etc. to the ReStore , which sells quality, gently, used renovation materials to homeowners and contractors at a fraction of the initial cost.
What so what are funds from the Re-Store cover?
Revenue from the stores cover the charities administrative costs, so that every penny donated at events, such as the King East Design District Exhibition, can support housing.
The donations will allow families to focus on education, employment and creating family memories that will last a lifetime, instead of worrying about living conditions.
For more information on Habitat for Humanity ReStore please visit: http://www.habitat.ca/restore-p7376.php
For more information about the King East Design District Exhibition, visit www.kingeastdesigndistrict.com or to purchase tour passports for Habitat for Humanity Toronto, visit http://tinyurl.com/kingeastdesign 
Come see what we've become at the King East Design District Exhibition
Welcome to the King East Design District – the perfect destination for design inspiration. The King East Design District Exhibition will take place between Church St. and Sackville St. in Old Town Toronto on September 29 and 30, 2012. This inaugural weekend-long event will combine various staples of luxurious lifestyle found in the city of Toronto with the opportunity for venues within the district to showcase the best of local and international design from furniture, to accessories,  to wine and delightful dining.
Attendees will have the opportunity to obtain a passport by making a $10 donation to Habitat for Humanity, Toronto.  This passport will chronicle their journey to the individual locations, where an interactive and educational design experience will be offered. Check out the abundance of experiences King East is offering during the King East Design District Exhibition!
Alexander Interiors & Design 
Design Stroll Tours take place Saturday Sept 29- 11:00p.m & 3p.m. Sunday Sept 30 – 3 p.m   TBC
Visiting King East Design District means taking a walk, but not just any walk. Experience Alexander Interiors & Design with a one hour "Designer Stroll".  At the showroom, guests will have the opportunity to participate in in-studio design consultations led by the owner Jamie Alexander.
Andrew Richards Designs 
Andrew Richard Designs welcomes King East Design District participants with a unique experience that incorporates the best of outdoor living. Join the ARD team in their stunning upstairs loft space for refreshments and nibbles. Don't forget to bring your backyard photos! Master entertainer and outdoor living extraordinaire, Andrew Bockner, will be on-hand to provide one-on-one consultations.
BoConcept 
Learn the BoConcept. Participate in a 30-minute seminar at 3pm on both Saturday and Sunday to discover how to convert a small space to a more clever, chic and comfortable area with inspiring Danish design. BoConcept will show you how each piece of furniture adds personality and how to make the unlikeliest of pieces stand out.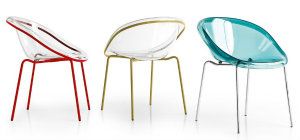 Calligaris Toronto Ciao, Toronto! Calligaris Toronto Store is your destination for the best in contemporary Italian home design. Visit us to browse through our 100% Italian-made and designed furnishings, sip espresso and enjoy product demonstrations throughout the day.
Cambria
Cambria presents KEDD guests with a state-of-the-art studio. A special guest Ramsin Khachi, well-known celebrity designer/builder, who oversaw the development of this new studio, located at 91 Parliament Street, will be on hand to answer your design questions and offer advice. Don't miss celebrity guest Ramsin Khachi on Saturday September 29 from noon to 2p.m
Italinteriors
Guests will experience the showroom's display of Italy's finest office and household furniture and kitchens. Great Italian design goes with great Italian food! Prosecco and focaccia hor d'oeuvres will be served.
Klaus
Behind, After or Beyond is an installation by Moroso, This international travelling exhibit will be in Toronto as one of eight global stops which coincided during the King East Design District Exhibition. The Klaus in- store experience Moroso exhibit will be held behind the store at 58 Berkeley Street
Mangia & Bevi
Come in and interact with a real   and try your hand at tossing pizza dough! Enjoy a delicious sampling of fresh thin-crust pizza and Italian specialties made from the best local ingredients. Also, get a chance to win a pizza and pasta dinner for 20 people. Drinks not included.
Modern Weave
KEDD participants will have the opportunity to unravel the mystery behind "The Art of Rug Purchasing", while nibbling on traditional Persian Pistachios and dry fruits. Rug expert, Michael Pourvakil will be showing guests around the showroom and teaching rug 101: size, quality, colour, application and design trends for your next area rug.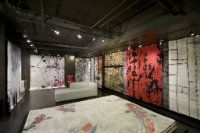 Savoia 
Visit Savoia for an information session on the basics of porcelain. Learn how it is created under high temperatures using raw materials and the advantages of its usage over quarried material. Information Sessions on Porcelain are Saturday, September 29 noon- 1p.m and Sunday Sept 30 1p.m- 2p.m
Studio B
Guests will be offered in-store consultations on the unique style of Baker furniture. Studio B will also introduce KEDD participants to Thomas Pheasant's exciting new collection. A special representative from Technogym will speak about Italian-made gym equipment for the home.
Sub-Zero/Wolf
What's sizzling at Subzero-Wolf you ask? It's Mari Loewen, the founder and creator of ANNA Magazine. Join her as she makes your Sunday special by sharing the story of her food magazine: how it mad its way from her kitchen to the homes of readers worldwide.
UpCountry
UpCountry presents British designer, Timothy Oulton and his unconventional take on traditional English furniture mixed with the spirit of rock and roll. The store will be giving away a designer overnight bag by Oulton to one lucky prize-winner.
For more information about the King East Design District Exhibition experiences and prizes, visit www.kingeastdesigndistrict.comor to purchase tour passports visit http://tinyurl.com/kingeastdesign  
 Toronto is officially embracing autumn and is soon to be finding itself covered in        a blanket of colourful leaves and the season's brisk breezes.  However, it's not just Mother Nature bringing in the scenic surroundings; the end of September will also mark the celebration of the city's arts and culture. Starting with Culture Days; this third annual Canada-wide event will be paying tribute to the creative innovation of all mediums of art from dance and music to visual arts and theatre. Launched in 2010 by a National Steering Committee and volunteer Provincial Task Forces; it is a collaborative national volunteer movement, committed to shedding light onto local artists and cultural organizations while providing them with opportunities to be widely recognized. The event takes place Friday Sept 28th all the way to Sunday Sept 30th and includes various activities for all ages.
In Toronto, Sun Life Cinema will be screening a collection of three short films from leading Asian filmmakers while Ontario College of Art and Design will be hosting 'Night Kitchen'; an all-night event featuring performances and projects showcasing the hierarchal structure and identities of art and educational institutions.
And while Culture Days is set to ignite the artful weekend, Nuit Blanche will be lighting up the night through its arts and
festivities. This is the seventh year of the Parisian inspired, mass accessible contemporary art event. Also known as the 'Sleepless Night', this twelve hour extravaganza will feature over 140 art projects and exhibits displayed across the city on the night of Sept 29th to the morning of Sept 30th. Nuit Blanche's main focus is to engage and inspire the public on the impact of art on society and vice versa. The high-event exhibit will bring awareness to the boundless world of art and how it can be utilized to transform the most unlikeliest spaces to wonderful places. The streets are not the only domain for Nuit Blanche, several museums, art institutions and galleries will have their doors open and presenting the public with their artistic experience.
September 29th also invites the public to Art of Fashion; a leading Canadian organization dedicated to shining the
spotlight onto emerging fashion and accessories designers. This years' AOF design competition will showcase works by designers representing the 2012 theme of 'Raw'. Participants will have a chance to view all the designs featured and see who comes out winning as a panel of industry judges casts their vote for The Most Promising Designer 2012 and Best Exhibit.
Last but not least, the King East Design District will also be taking place on this art concentrated weekend. Event goers will have the opportunity to visit participating retailers and experience their design and interactive experiences. Along with the purchasing of a passport, participants will not only have a chance to win amazing prizes from participating retailers but will be helping Habitat for Humanity Toronto. So whether you're into cultural events, contemporary art, fashion or modern design, the season will definitely reacquaint you with your artistic side and remind you that Fall brings the weekend of creativity.
Author: Habiba Ahmad
 Fans of EQ3, living in Liberty Village, will be delighted to learn that their favorite modern home furniture brand has opened a new branch there. Also a new there is a new instore Marimekko boutique. The Finnish design house, Marimekko, has collaborated with EQ3 to better the quality of the fashion choice of the natives and also offer them an opportunity to taste the Finnish fashion.
This newly collaborated store has settled in a two storey building from the 1910 and they call it their 'Liberty Village Flagship.' This old fashioned building has turned out to be the perfect place since it fulfills all the requirements of the company both geographically and structurally. The company officially lifted the curtain of this new showroom on September 1st.
A compatible amount of modern fashion has taken over the collection of the company, enriching the domain of collection as a whole. First it had inaugurated with its basics collection. The Finnish textile and clothing Design Company has also joined the party and thus made the combined collection ever so grand that the customers coming here cannot but marvel at the awesomeness of this epic gathering.
Other than the adorable EQ3+ line collection, they also provide products from a number of popular brands such as Alessi, Herman Miller and Mitra. Also the Liberty Villagers will be able to enjoy a shop-in-shop facility with Merimekko as the new showroom is offering all the house decorating commodities including beddings, shower curtains, tableware, kitchen linens and pillows etc. all these factors have begun influencing the lifestyle and fashion choices of the natives greatly.
For more information visit: www.eq3.com
Other interesting stories about this new store: http://www.blogto.com/announcements/2012/09/new_eq3_location_lands_in_liberty_village/