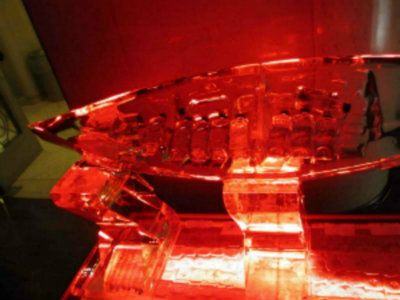 The historic building of Canada's Design Museum wore a festive look on November 16th for DX Intersection, a collection of custom creations, surrounding the lobby. IKEA, the world famous Swedish furniture manufacturer, partnered with Design Exchange to present AUKTION. The event showcased more than 20 unrivaled items designed by artists, celebrities and professional experts. The party guests were given the honor to bid on these items and the fund will be used to helping the DX's Youth Education Program and Canadian Design Preservation Initiatives.
AUKTION had showcased the most dazzling and ravishing pieces of works. Participants from all over the Canada took part in this event. The Atelier 688 and Barr Gilmore worked together to complete a fulgurous floor lamp chandelier. House and Home Magazine enlisted a tennis table and Sarah Stapley a Sid Lee's music-inspired table. Other than these there were also Christina Zeidler's "Queen Camo" seating installments, a bookshelf that can dance by Davide Tonizzo and a wall screen by Design Agency.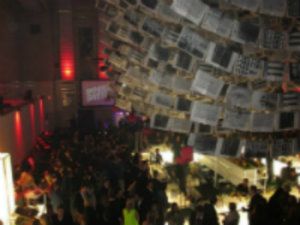 More than twelve hundred guests attended the party. The whole museum building was lively with sounds of live music and ecstasy of the guests. The DJs moved here and there with their instruments on each floor which included Keys n Krates and Skratch Bastid and Bellosound. The sponsors went through a whole lot of trouble to make this exhibition a success.  Flare, IKEA, DL, GE Monogram, Bruce Mau Design and Sennheiser are some of the main sponsors of this entertaining event.
For more info on the event visit: (www.torontocityevents.ca or www.dx.org)
On December 1st 2012 Niagara Falls will play host to a unique downhill race on skates sporting event called 'Crashed Ice', and this city on the USA Canada border is the first stop of the 2013 Red Bull Crashed Ice Tour.
This sport is also called Ice Cross Downhill and it started life as just another winter extreme sport in 2000 – but then Red Bull got involved and the sport took on a life of its own.  The rules are the same today and the rules are simple; four racers on skates hurl themselves down five hundred meters of frozen ice and ramps in an urban environment. The first competitor to cross the finish line wins the race!
This sport is brand new because we've never had the refrigeration technology or equipment like this to be able to make the course so affordable before this modern age. The biggest cost for such an event is the construction of the frozen track itself. The sport is popular because it offers another chance to hockey players whose NHL dreams are unfulfilled. Now they can use their skating skills for something totally unique. Read more about Crashed Ice on this Niagara Falls blog. Below is the course that has been set up for Dec 1st event which is the start of the 2013 Crashed Ice Season.
2013 race calendar will start with the opening event in Niagara Falls, then continue through the United States, Russia, Switzerland, and end with the big finale in Quebec City. Although this extreme event attraction gets a lot of international attention and has a wide audience in Europe and Asia, its a very Canadian creation and we're proud of the fact that current World Champion Kyle Croxall, is from Mississauga, Ontario. He will be defending his title.  You can see Kyle and his brother Scott in this video,

Check the official tour website for more information. Book a hotel in Niagara Falls online now or check out our list of dining and accommodation packages to make the most of your visit. There's lots of capacity in Coco's bar and if you went early enough you could most likely get a table on the patio terrace which should offer a wicked view.
The photo below is from 2008 when fans had unprecedented access to the competitors – the track side seats could literally reach out and touch players as they sped past. That level of access is rare in professional sports and really rare for extreme sports.
The racers look like hockey players and wear similar helmets and padding. There has been some speculation that ice hockey could evolve ramps and speedier sloping corners because of the success of this sport.
Not only has Red Bull sponsored the event, but they helped create it and raise it up to the popularity it enjoys today. Hockey players love this new skate racing sport and there's some good discussions about Crashed Ice on Canadian sports forum and more about Crashed Ice in Niagara Falls on this NHL hockey forum because they have nothing else to rant about except the NHL strike.
Although this is a free outdoor event for thousands of spectators, there is also a VIP premium indoor viewing area. The Red Bull sponsored 'Crashed Fan Zone' will open its doors at 6:00 pm and provide ticket holding spectators with an unparalleled view of the proceedings, and an insider experience. DJs will be setting the tone for the evening and they will be the first to toast the victory of race winners, probably just before 11pm.

The 46th annual Cavalcade of Lights Festival opened November 17, 2012 at Nathan Phillips Square at 7pm. This year's festivities were amazing with performances by Suzie McNeill, Sean Jones, Alyssa Reid, Dragonette, and Circus Orange. There was an incredible fireworks display taking place after the lighting of Toronto's official Christmas tree! Throughout the festival there will be an opportunity for the public to have their photo taken with the Grey Cup and to enjoy a day of outdoor skating on December 1, 2012. The festival will be ongoing from the 17th till the end of December.
Aside from the celebrations at Nathan Phillips Square, many neighborhoods across Toronto are hosted their own Cavalcade of Lights Festivals! In fact, Rosedale Main Street Cavalcade of Lights Festival took place on Saturday, November 24th from 2pm to 6pm, with a series of activities planned along Yonge Street from Woodlawn Avenue to Crescent Road. This event included attractions such as a live band, $5 food and drink, horse and wagon rides, face painting, and so much more.
Both events were a great way to celebrate the holiday, enjoy amazing attractions, and spend time with fun for the entire family!
For more information on these events visit: http://www.rosedalemainstreet.ca/ and http://www.toronto.ca/special_events/cavalcade_lights/2012/post.htm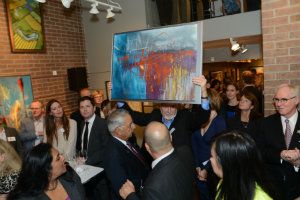 Living in Canada, many take for granted how seamlessly our rights and freedoms have been woven into our constitution. For many people around the world the idea of having such a charter would be a luxury.However, The Friends of the Canadian Museum for Human Rights (FCMHR) have set out to help build a foundation to celebrate human rights worldwide. Thus, The Canadian Museum for Human Rights (CMHR) has set out to achieve this very goal.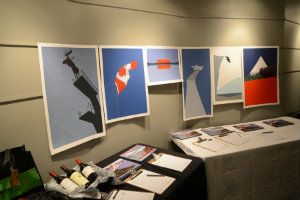 Being built in Winnipeg, Manitoba; upon its completion, it will be the national symbol for the cultivated paths that citizens and organizations have taken to ensure rights and freedoms for all. The CMHR will also serve as a reminder to constantly bring forth positive changes in order to eliminate intolerance, prejudice and injustice from existence.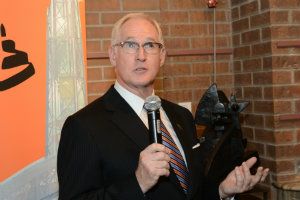 On Oct 4th, Toronto did its part by holding "Always a Winnipegger & Friends Event"; a fundraiser for the CMHR, held at the Mayberry Fine Art Gallery. Several art lovers were present, along with those who simply wanted to make a difference. Many of the guests also happened to be Winnipeggers and ex-Winnipeggers. Among them were CMHR CEO Stuart Murray, National Campaign Chair, Gail Asper and M.P.P. Glen Murray. Alongside them, renowned Canadian singer/songwriter Chantal Kreviazuk and Winnipegger artist, Rand Heidinger.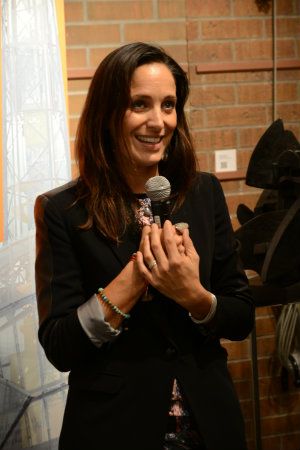 The evening brought sounds of clinking wine glasses, live music, tasty hors d'oeuvres and sights of lovely works of art. The event showcased pieces from famed Canadian artists, such as Charles Pachter, Rand Heidinger and Tara Sawchuk; whose works were all up for bidding during the event's silent auction. Pachters prints of impulsively juxtaposed iconic Canadian symbols and Sawchuk's modern yet classic stained glass piece captivated the eyes of all guests.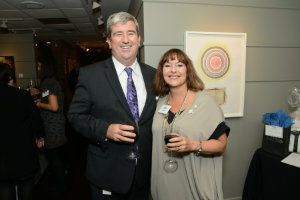 Cheers and laughter filled the gallery however a moment was given to special guests, to take to the mic and share their emotional personal stories. Some talked of poverty while others on gaining basic human rights. Nevertheless, their anecdotes all shared the idea of Canada as a strong example for rights and freedoms on a global scale.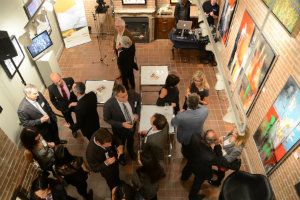 The night although eventful, felt short-lived and guests did not want to leave. But after celebrating humanity's triumphs and progression many knew upon leaving, that the future did not seem brighter but is brighter.
To view pictures from this event, visit http://www.flickr.com/photos/cityeventstoronto/
For info on The Friends of the Canadian Museum for Human Rights, visit http://www.friendsofcmhr.com/splash.cfm
For info on The Canadian Museum for Human Rights, visit http://humanrightsmuseum.ca/home
Author:  Habiba Ahmad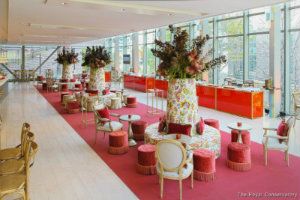 I had the honour of attending Event Showcase Night at The Royal Conservatory's Telus Centre. It was an evening specifically for Event Planners to showcase the glorious hall and various reception rooms. The Telus Centre has an exclusive list of suppliers that commanded our presence that evening. My Uber black car pulled up to 273 Bloor Street West. I walked down a long aisle to be greeted by polite and professional wait staff carrying warm up drinks of some pomegranate coloured, sweet and sour with a splash of sparkling bubbles. I continued down a long hallway (regrettably in my stilettos, albeit it was a walk that entwined both romance and modern art that made the walk oh so spectacular. One wall was composed of a brick wall and a glass enclosure on the other, humbly overlooking the atrium, home to the b'espresso bar, where you will see students mingling amongst classical repertoires.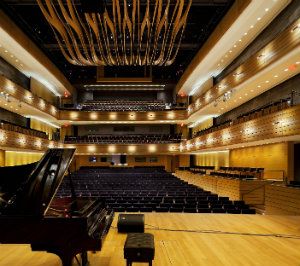 There was a long bar that seemed to run forever outside Koerner HallHall. The bar was built without fridges! Apparently the architects decided that a set of buzzing fridges and noisy ice makers would conflict with the orchestral acoustics in the hall. How brilliant! Libations are kept in buckets of ice that must be refilled regularly.
 A group of exclusive, yet diverse vendors were lined up on the circumference of the main lobby. Behind each vendor, their company name was discreetly but creatively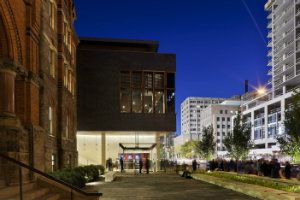 displayed in white font, and appeared to be floating, on the glass window behind them. How tasteful.  Only the finest samplings were provided. It was not your usual chicken on a stick or spring roll offering. There was melt in your mouth, fork tender beef ribs carved in the creamiest polenta ever. There was fois gras stuffed cornish hen. Clearly no expense was spared. But wait, there were also lobster rolls stuffed in those bite size half moon, mini white bread concoctions.
 A beautiful jazz trio, dressed in tuxedos played in the corner of the glass enclosed hall. Could the evening be any more perfect?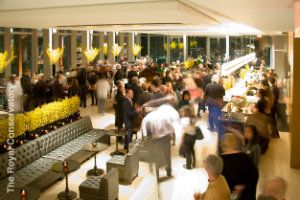 You can rent one of the three floors but why would you? Go big or go home and rent the entire venue. It's a must for your special occasion. Except, all in, it starts at about $50, 000 as you must rent each individual floor and bring in caterers and décor and tables and chairs. Is it worth it? Absolutely.
 If you're looking for a gorgeous venue and your budget has lots of room for incidentals, consider the breathtaking Telus Centre. And put me on your guest list.
The Royal Conservatory, TELUS Centre for Performance and Learning
273 Bloor Street West, Toronto ON M5S 1W2