Bloke & 4th is this incredible unique venue on King West & Spadina in the heart of the entertainment district that has 2 different atmospheres in one place.  There is a great seating area as well as mingling area.
First there is the East wing called Bloke. A stylish lounge where designs meets comfort and urban atmosphere. Everything is in place for people to relax, connect and enjoy cocktails up until 11pm.
Then, the West wing, 4th, is a restaurant featuring globally inspired menu, focusing on local and seasonal ingredients, which enable them to created and update it 4 times a year. They offer"global flavours with modern twists by combining a variety of textures and temperatures". Another of their uniqueness consists in creating every meal from scratch.
And finally both wings transform into "Bloke & 4
th
", 5000 square feet of functional space, as the evening ensues and the dining finishes.
Special features :
East Wing: Bloke
8 VIP Tables
West Wing: 4th
80 Seats
3 Private Dining Sections, each accommodating 15-30+ Guests
For more information on the venue : http://blokeand4th.com/#&panel1-1
This year's opening night party for the Canadian Special Events Expo was both 'UnExpected', and unforgettable; with a scrumptious variety of food, memorable entertainment, and ample networking opportunities, this event was a huge success. Approximately 700 event industry professionals from across Canada came out to UpCountry in the heart of Toronto, to mix and mingle at UnExpected '13 on March 20th.
From delicacies provided by Presidential Gourmet, Cheeseworks, Parts and Labour & Neptuno, beverages from Griffin Gastropub & Wandering Bean Coffee, and desserts by Bucket and Whisk, to performances from Sarah Violin, Jordan Clark, EH440, and Becky Hoops & David Fiset; UnExpected '13 had something for everybody's tastes. The event also featured 'unexpected' elements such as a sidewalk chalk drawing by Toronto's own Chalkmaster Dave, an Easter bunny distributing Cadbury eggs & goodies out front, a puzzle by Master Pieces, and captivating projections from Apex Sound.
The CityEvents team sponsored the social media management for this event, and were on-site to execute several contests, interact with guests, and encourage online engagement. We hosted online contests leading up to the event in which we gave away passes to both the UnExpected party, and the Canadian Special Events Expo: Tradeshow. Our on-site contests were based on guests' involvement with social media including activity on Crowd Activation's Social Mosa, a combination Twitter & Instagram wall, and the event's mobile app from The App Labb. Winners went away with a Bucket & Whisk gift basket, a fondue set or gift card from CHEESEWERKS, a Parts & Labour gift card, or tickets to Sensation: Ocean of White from Nasco Staffing and the Rogers Centre.
We at CityEvents had an amazing time at this year's UnExpected opening night party, and we are already looking forward to the next one!
Check out our photos: http://www.flickr.com/photos/cityeventstoronto/sets/72157633048285693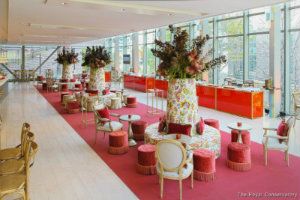 I had the honour of attending Event Showcase Night at The Royal Conservatory's Telus Centre. It was an evening specifically for Event Planners to showcase the glorious hall and various reception rooms. The Telus Centre has an exclusive list of suppliers that commanded our presence that evening. My Uber black car pulled up to 273 Bloor Street West. I walked down a long aisle to be greeted by polite and professional wait staff carrying warm up drinks of some pomegranate coloured, sweet and sour with a splash of sparkling bubbles. I continued down a long hallway (regrettably in my stilettos, albeit it was a walk that entwined both romance and modern art that made the walk oh so spectacular. One wall was composed of a brick wall and a glass enclosure on the other, humbly overlooking the atrium, home to the b'espresso bar, where you will see students mingling amongst classical repertoires.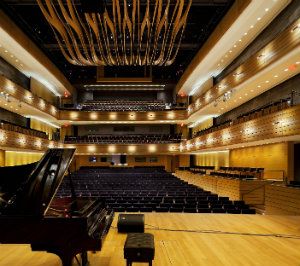 There was a long bar that seemed to run forever outside Koerner HallHall. The bar was built without fridges! Apparently the architects decided that a set of buzzing fridges and noisy ice makers would conflict with the orchestral acoustics in the hall. How brilliant! Libations are kept in buckets of ice that must be refilled regularly.
 A group of exclusive, yet diverse vendors were lined up on the circumference of the main lobby. Behind each vendor, their company name was discreetly but creatively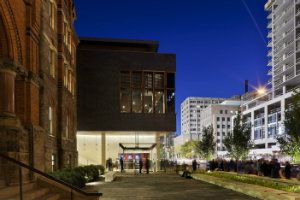 displayed in white font, and appeared to be floating, on the glass window behind them. How tasteful.  Only the finest samplings were provided. It was not your usual chicken on a stick or spring roll offering. There was melt in your mouth, fork tender beef ribs carved in the creamiest polenta ever. There was fois gras stuffed cornish hen. Clearly no expense was spared. But wait, there were also lobster rolls stuffed in those bite size half moon, mini white bread concoctions.
 A beautiful jazz trio, dressed in tuxedos played in the corner of the glass enclosed hall. Could the evening be any more perfect?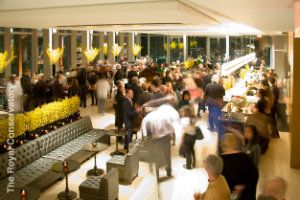 You can rent one of the three floors but why would you? Go big or go home and rent the entire venue. It's a must for your special occasion. Except, all in, it starts at about $50, 000 as you must rent each individual floor and bring in caterers and décor and tables and chairs. Is it worth it? Absolutely.
 If you're looking for a gorgeous venue and your budget has lots of room for incidentals, consider the breathtaking Telus Centre. And put me on your guest list.
The Royal Conservatory, TELUS Centre for Performance and Learning
273 Bloor Street West, Toronto ON M5S 1W2
Search and Social Rank Symposium made a huge splash in marketing at the Boiler House on April 16th !
Due to the public's insatiable curiosity for more insight into the weird science at the intersection of social media marketing and search engine optimization, there was a third Search and Social Rank Symposium held at The Boiler House restaurant on Monday, April 16th, in the Distillery District of Toronto. Presentations and discussions illustrated the intricacies of social media marketing, while featuring expert guest speakers Rob Campbell, Alex Blom and Brad Gosse.
Search and Social Rank Symposium created the perfect opportunity to build valuable relationships with business professionals, while guests learned the necessary skills to market your business online like a pro!
The event featured presentations by leading industry professionals, followed by a question and answer session, and networking opportunities. Attendees learned the elements of good business storytelling, social media marketing, SEO and how to run a successful business online. Guests can now use the tools they learned to develop their professional edge from the presentations at Search and Social Rank Symposium!
Rob Campbell and Brad Gosse take two totally different approaches to online advertising, and disagree on storytelling structures, and how to use Google search in web marketing. Their presentations should stand in sharp contrast. Alex Blom, who speaks first, has always been a creative thinker with clever ideas about clouds and conversion metrics.
Highlights included:
Search engine optimization
Social media marketing
Audience Penetration and Reach
Speakers included:
Rob Campbell, Principal, Lenzr
Rob Campbell Principal at Lenzr Canada's largest serial photo contest website. Prior to Lenzr Rob was a Social Marketer at LifeCapture Interactive and a writer and producer at Threshold Media Productions. As the Prime Innovator at Lenzr Corp, Rob Campbell is also the director of the Page One Program, which uses Lenzr photo contests and other attractions to build high quality 'social capital' closely aligned to client website's value proposition.
Alex Blom, CEO, SalesChoice
Australian born Alex Blom is the CEO of SalesChoice a sales management company providing detailed analytics and minimizes data entry. Prior, Alex was CTO and Partner at Helix. His achievements include Helix and selling startup, co-organizing Freelance Camp TO and being awarded Young Citizen of the Year. Alex troubleshooted retail conglomerates, ran marketing / sales organizations, created music festivals and co-founded not for profits.
Brad Gosse, Founder, Yourbrain Media Inc.
Brad Gosse is a consultant and Founder of Yourbrain Media Inc. Brad Gosse is an expert on such topics as search engine optimization (SEO), product creation and website monetization. Yourbrain Media Inc. is a Canadian online publishing and advertising company. Brad teaches comprehensive SEO courses that integrate social media and sales psychology. His specialties include social media, SEO, video branding, business development, personal branding, Internet marketing, software development and advertising. Brad started building websites for other people in 1996 and before creating his own sites with revenue models built in. Brad is the owner of several online and offline businesses along with commercial real estate.
Ticket included delicious food from the esteemed chefs at Archeo, with cash bar.
Where: Archeo Trattoria, 55 Mill Street, The Distillery
For more information visit:,www.jib.ca/searchandsocial
www.lenzr.com, www.jib.ca, www.torontocityevents.com, or like us on Facebook!

Canadian born Melissa Nepton hit Toronto Fashion week with a bang, with her ready-to-wear couture for chic, urban, career women. The collection reflected both personality and style; she aims at showcasing both femininity and expression.
That is why when I got the chance to see her show I was pleasantly surprised. Surprised to see a new designer, and to find so many things that I would wear everyday. This show was even more memorable to me because it was my first time being able to sit front row at the Toronto Fashion week, which was an honour.
Her chic stylish looks included pieces like high collars, oversized sweaters, and loose and feminine blouses in neutrals, creams, and shades of grey and black. For a country like Canada, it can be difficult to look good in warm sweaters. Melissa successfully created a number of stylish pieces for a couture fall/winter look. I will be sure to look for any retailers who carry her collection next fall when outfitting myself for the winter season.