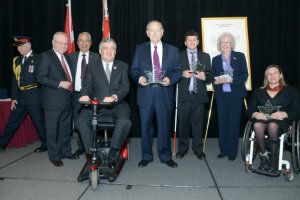 The Canadian Disability Hall of Fame Induction Ceremony took place on November 29th at The Fairmount Royal York Hotel in Toronto. As in past years, CityEvents is proud to have assisted in the planning of the 19th annual Canadian Disability Hall of Fame Awards. We thank you for the great turn out as well as your amazing support.
Among this years attendees were Hon. David Crombie, Hon. David Onley, Lt. Governor of Ontario, Hon. Vim Kochhar, and  Guest speaker, Lindsay Gordon, President and CEO of HSBC, and many more.
At this years event four new members were welcomed into the Hall of Fame. The exceptional group of people inducted includes Ann Caine -builder, Tracey Ferguson -athlete, Robert Hampson -achiever, and Joyce Thompson -builder (posthumously).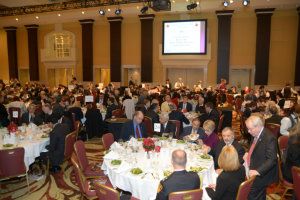 Ann Caine- Builder
Ann is the founder of Sunrise Therapeutic Riding and Learning Centre near Guelph, Ontario. Ann has helped to introduce thousands of young people as well as adults with special needs to improved fitness, independence, and acceptance while at Sunrise. Ann plays a large role in the growth and practice of therapeutic riding and is a founding member and past president of the Canadian Therapeutic Riding Association and the Ontario Therapeutic Riding Association. Along with her other achievements Ann played an influential role in developing Paralympic equestrian sport and was a founding member and Canadian representative on the International Paralympic Equestrian Committee.
Tracey Ferguson- Athlete
Tracey was the first female with a disability to be inducted into the Scarborough Board of Education's Elite Athlete Program, and at the age of sixteen she became the youngest person ever to be selected to the national women's wheelchair basketball team. Tracey helped the team to go 10 years undefeated in international competition, earning three Paralympic medals and three World Championships. Tracey is a rare multi-sport Paralympian and competed in track at the 2008 Summer Games.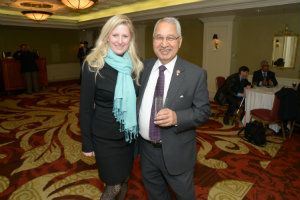 Robert Hampson- Achiever
Robert loves to test himself and enjoys activities such as sky diving, rock climbing, and skiing. In fact, Robert is an accomplished competitive swimmer winning medals in three rips to the Ontario Paralympic Winter Championships. Robert is a Variety Village ambassador and a strong promoter of accessibility. When he was five, Robert started to collect pop can tabs to buy wheelchairs for kids with disabilities. When he was eight he launched the Robert Hampson Tabs for Kids Fund and has since collected 21 million pop tabs.
Joyce Thompson- Builder (posthumously)
Joyce was the first Executive Director of Rotary Cheshire Homes (North America's first fully accessible apartment complex for the deaf-blind). Joyce's 30-year campaign to help build a world of greater security for deaf-blind Canadians resulted in the creation of many influential initiatives. Joyce's vision was The Canadian Helen Keller Centre with the support of RCH Board, offering training for deaf-blind clients in independent living skills, communication and assistive technologies. Joyce significantly increased access to publicly funded intervener services, and helped to designate June as Deaf-Blind Awareness Month in Ontario.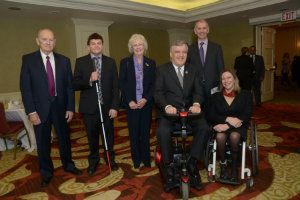 For more information on this event visit: http://www.cfpdp.com/cdhf/default.html

The Christmas Market 2012 was a blast! The lights, the festiveness, the little shops and everything else, was something that you must experience. Despite the cold, everybody enjoyed themselves.
The Distillery District helped create this great atmosphere, where you can breathe Christmas.  It made you feel as if you were in a European town at a Christmas market.
We're very much looking forward to the 2013 market!
For more information on this event visit: http://www.torontochristmasmarket.com/
Have you checked out the newest luxury hotel rooms and meeting space?  If not it is one of our favorite new event spaces in Toronto.
"Shangri-La's Bonus Miles rewards for Events, event organizer can earn up to 20,000 airline bonus miles with any one of the 24 participating airlines when booking an event group at any Shangri-La hotel, resort or Traders hotel between now and 31 December 2012." If you reserved the event room and at least ten rooms for one night, you can earn one hundred miles for each room.  You don't need a big room? Just stay at Shangri-La Hotel for two nights!
The hotel offers another Bonus Choice. If you stay over 2 nights, you could get Deluxe Set Breakfast Menu, 75 CAD Dining Credit at Bosk, and 75 CAD SPA Credit at Miraj Hammam.
Shangri-La Hotel Toronto has eight meeting rooms include a huge ball room, one garden terrace, and one theatre room. The event rooms are named after Toronto places.
Museum is a two-storey glass room. There are 13 Italian crystal chandeliers, hanging at varying heights. The Screening Room has a 16′ x 13.5′ foot screen with "state-of-the-art" sound system, and 42 over-sized chairs. The largest room would be Queens Park Room. That ballroom is 341 square meters (3,670 square feet) of open space, and it has 39 pave crystal chandeliers above. You can see University Avenue through the glass wall. They have an outdoor garden terrace, and that is good for extending the ballroom capabilities in the summer time.  Our favorite detail is this large patio space that leads off the main ballroom and a big point of difference from other Toronto Ballrooms.
At the restaurant, Bosk, they have delirious Asian-inspired food and there are 80 seats. You can arrange private dining by the maximum of 30 people.They also open the Lobby Lounge, and the bar.
Overall the new hotel offers a number of different spaces for a casual drink or larger event.
For more information, visit their Website: http://www.shangri-la.com/toronto/shangrila
Shangri-La Hotel, Toronto
188 University Avenue, Toronto, Ontario, M5H 0A3, Canada
Christmas is in the air above the red brick cobblestones and inside each of the many Victorian era heritage buildings in the Distillery District until Dec 16th 2012; there's a wide selection of hard-to-find goods and services associated with the season at the third annual Toronto Christmas Market.
The 2012 Toronto Christmas Market is distilled from the old school European – style festive organization that brings together culturally rich family entertainment including musicians, carolers and children's choirs. These markets originated in Germany, beginning in the early 1400?s, and are now being held in many countries all over the world, and this is arguably Canada's biggest and best example. You can follow the Toronto Christmas Market on Twitter @TOChristmasMkt
This is a world class shopping destination. The stuff sold here is very rare and special as merchants must apply and are selected by jury for the right to sell unique products all along the different streets. The Distillery District is playing host, for the third year in a row to this festive extravaganza that is expected to bring three hundred thousand people to the compound.
Lowe's 2012 Toronto Christmas Market has a photo contest and you could win $250 cash or dinner in any of three world class Distillery District Restaurants!
Check the 2012 Toronto Christmas Market Photo Contest on Lenzr, or visit the Toronto Christmas Market website.
Sponsored by Toronto.com, this photo contest allows attendees to compare notes. Last year this same call-to-action collected over 300 pictures, which in turn accrued over seven thousand votes as folks laboured to get their pics up into the Top Ten to be eligible for the grand prize.
Prizes for the 2012 competition are as follows,
Winner will receive a $250.00 cash prize,
2nd place will receive a $150.00 Distillery Restaurant gift certificate
3rd place will receive a $100.00 Distillery Restaurant gift certificate.
RULES
Upload original photos now and until December 25th
Voting begins December 15th and ends midnight Dec 25th
Top ten images advance to judges. *Sponsor is Judge, Here is a link to the Term of Use page unique to this contest. Winner announced on Lenzr blog Jan 1st 2013. Lowe's 2012 Toronto Christmas Market event runs from Friday Nov 30th to Sunday December 16th, 2012 at The Distillery District, Must Be 13yrs older to enter – gift certificates and cash prizes will be mailed anywhere in Canada only. Good luck!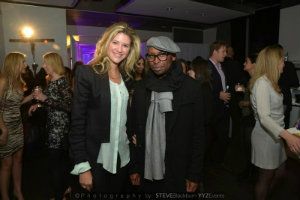 Photo Credit; Steve Blackburn, YYZ Events
Frocktail Designer Dress Auction had exhibited some of its best frocks and accessories on 'The Fourth Annual Frocktail Party', which took place at Arcadian Loft on 14th of the instant. I have been supporting this event since the first year and purchased some great dresses over the years.  This years event was the biggest yet and doubled their fundraising. The funds gathered from this auction will go to Juvenile Diabetes Research Foundation (JDRF). The party has already donated more than $80 thousand to the foundation over the years. The new location was a great hit and offered a great area for display as well as the dance floor which filled up later on.
Mainly, fashion-loving designers and some praiseworthy retailers donated most of the items, and individuals showcased for the auction. The Bay, French Connection, Greta Constantine, Calla, Lovas, eLUXE, Ela, Danier are some of the fashion-forward retailers that donated their frocks for auction. The local celebrities were not far behind the retailers in donating their favourite pieces for the auction. Monika Schnarre's David Dixon Dress and Oscar de la Renta, Mary Katrantzou gowns from Suzanne Rogers were the main attraction. Cheryl Hickey donated the dress designed by Toronto's very own designer Rodney Philpott which she had worn on the Royal Wedding. The highest selling item was a suit from Garrison Bespoke.
Photo Credit; Steve Blackburn, YYZ Events
Everyone expected that this year's party would beat all the records of the previous ones and it disappointed nobody. More than 600 guests had graced the party with their presence. The fund passed over $55,000 this year which is nearly twice the amount of last year. This brings a total amount of $150,000 for 2012. The Bay, French Connection, Iceberg Vodka, Purdy's, Durbanville Hills, O&B events and Got2b sponsored the whole event. Overall, the party was a blast. Congratulations to the organizers and volunteers of this hot event on the TO fundraising circuit.