Save the date!!  
The event was for the relaunch of the design exchange, Canada's Design Museum, 234 Bay Street. The event date was on November 16th 2012, from 8 pm.
They had:
– Interactive design installations,
– unexpected interventions,
– creative culture,
– live music,
– DJS,
– Celebrity chefs,
– VIP experience.
The DX's annaul fundraiser supported DX Youth Education Programs.
For more information : www.dx.org

As in past years, CityEvents is proud to have assisted in the planning of the 19th annual Canadian Disability Hall of Fame. The Hall of Fame is well known for providing permanent recognition of outstanding Canadians who have made extraordinary contributions to enriching the quality of life for people with physical disabilities. Founded by the Canadian Foundation for Physically Disabled Persons (CFPDP), this public exhibit was officially opened February 11, 1994 at Metro Hall, 55 John St., in downtown Toronto. Two years later a rededication ceremony was held on November 20, 1996 when the exhibit moved to a more visible location, and is now open to the public 24 hours a day, seven days a week.
For more information on this event visit: http://www.cfpdp.com/cdhf/default.html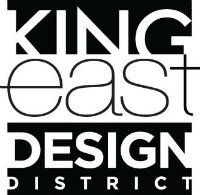 The first annual King East Design District Exhibition was a masterpiece event! Thanks to all our supporters and participants. Hundreds of passports were sold, and over $2500 was raised for Habitat for Humanity Toronto. KEDD set out to inspire decorators and designers, and do-it-your-selfers, and bring communities together by mutually supporting a great cause. With everyone's help we were able to reach and surpass these goals.
The weekend of creativity was full of laughter, good eats, and great works of interior art.  KEDD visitors had the chance to venture on "Designer Strolls", take part in design consultations, view the finest Italian furniture and even get a history lesson by seeing Moroso's "Behind, After or Beyond" travelling exhibit.  KEDDers also had the opportunity to join the Andrew Richards Design Team to learn how to give their backyards a make-over. And if all that didn't get your design muses singing then learning how to toss a pizza at Mangi & Bevi, eating delicious treats with Mari Loewen from ANNA Magazine and chatting with celebrity designer Ramsin Khachi at Cambria sure did the trick.
KEDD guests showed much enthusiasm and appreciation for the King East Design District. Several visitors had their KEDD passports in hand and design questions in mind. Many were eager to find out how they could transform their small spaces while others simply wanted a change from traditional spaces to modern designs. Nonetheless, all had one thing in common; they needed inspiration.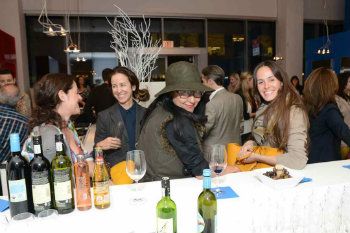 The exhibition allowed for individuals to take the opportunity to drop by and enjoy the city's design district. The event called for those who wanted to take time out of their busy lives and really seize an afternoon for a simple glass of wine, a few nibbles and a scenic endeavour.  Journalist, Rob Campbell even wrote an article about the exhibit in Digital Journal titled, King St East now recognized as Design District of Toronto. Along with Campbell there were many other  industry professionals present who felt the exhibition invigorated the design community making the event worthwhile and something to be repeated for years to come.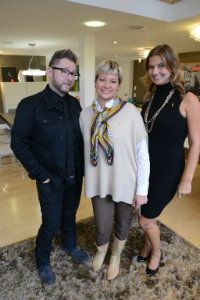 So whether you live in a lavish downtown condo, or you're still dwelling in your mother's basement, we hope the weekend enlightened those who needed refreshing ideas and gave a little nudge to those hesitating with a design dare. Toronto has a lot to offer and the King East Design District is definitely a must-see destination to fill up on your creative juices.
We hope everyone enjoyed their journey through the district and picked up innovative ideas along the way. We'll be back next year with more design good times!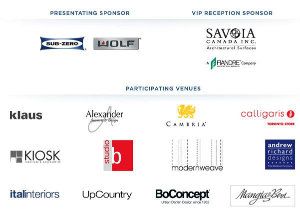 Stay tuned for upcoming events by checking us out on…
http://www.kingeastdesigndistrict.com/
http://www.flickr.com/photos/cityeventstoronto/
http://www.youtube.com/watch?v=3ZygVO_EzCE&feature=plcp
Author:  Habiba Ahmad
We are happy to announce the winners of King East Exhibition Passport Prizes. Congratulation to all of you and thanks to everybody for being part of  this fabulous cause as Habitat for Humanity
Winner of the:
1. Dinner prepared by a gourmet chef for you plus eight guests at Sub-Zero/Wolf  Showroom – Andrea Bolley
2. A Timothy Oulton designer overnight bag – Ann Kurdyak.
3. A special ice wine basket with a quartz cheeseboard from Cambria.- Colleen Cole
4. A teak Muskoka Chair from Andrew Richard Designs.- Deb Dileo
5. A 4×6 area rug from Modern Weave. – Heather Lewis
6. A Tom Dixon Off cut Stool from Klaus – Marlileu Roth
7. Pizza and pasta dinner for 20 people from Mangia & Bevi. Drinks not included. – Luisa Cellis
8. An Xtra Ottoman/Bed valued at $467 from BoConcept. – Meyers Ohn
9. A Kartell Attila Statue from Studio B – Mira Bedder
10. 2 Area 51 chairs, valued at $360 from Calligaris – Pam Pilkington
11. From Italinteriors a Living Divani Ile Side Table designed by Pierro Lissoni. Retail Price: $1,450.00 – Rob Campbell
12. ECLIPSE Nesting Tables ( set of 3) from Kiosk – Silvana Zivhovic
13. Designer sofa gift certificate for $1,000 towards custom furniture
and in-store design consultations at Alexander Designs – Yvonne Koscielak
Congratulation again and  if you has not received an e-mail from us yet, please send us an e-mail with your personal information.
(e-mail: info@torontocityevents.ca)
Get ready for the holidays and avoid the mayhem!
It's simple leave us a comment on how much you enjoy Christmas shopping and you could win 2 tickets to Gladstone Hotel on an exclusive,  stress-free, shopping experience.
Enjoy complimentary glass of wine or sampling of 5 premium Colaneri Estates wines, spa services and a dessert bar…all this and more! So leave your comments now and check back to see if you have won.  Good Luck!
Where: Gladstone hotel
When: Nov. 3, 2012
Hours: 11 a.m. to 9 p.m.
To read more about the event, visit: http://www.nthlounge.com/