Taste of heaven in a Spanish inspired tapas, Barsa Restaurant  
Written By:Mercedes Lamoca
Come out with your friends and family and enjoy the new beautiful Restaurant called Barsa. It's an amazing Spanish inspired tapas restaurant, located on Market Street directly beside the historic St. Lawrence Market. At Barsa we tried a wide range of all different kinds of foods from all over the world also tying in the vibrant Barcelona-inspired atmosphere.
Food
Executive Chef Michael G. Smith allows for the guests to taste, discover and share. The menu has a global feeling to reflect all of the diverse cultures in Toronto. The chef uses the finest local and global seasonal ingredients for his unique menu items.  Some of the top dishes that Chef Michael and his crew put together include the Sea Bream Ceviche with pecans, Tiger milk, avocado mousse and foie; and Sangria cakes with coconut tres leche, compressed fruit and mango sorbet.  We tried one of their special sangria drinks, they have  a variety and we recommend them both for winter and summer. Barsa's philosophy of evolving modern small plates combine worldly flavors with International techniques to deliver a diverse menu guaranteed to satisfy any palate. Come try for yourself and be in "aww"
Atmosphere
The atmosphere is very interesting; the restaurant is the joining of the City and culture of Barcelona with Toronto. Nearly every aspect of the Barsa Taberna design has an inspiration, a story and is unique to only Barsa Taberna. We learned the lights were specially designed to reflect its Spanish heritage and light up the place perfectly.  All of the furniture was custom made and the designs on the floor were specially created for Barsa.  The lovely patterned floors were inspired by the mosaics' that you will find throughout Spain, specifically in the Palace Al Cazar in Sevilla (Southern Spain). All of this while keeping the historic building and condition in place. The building itself is a heritage building that's been carefully restored. The renovation  has kept most of its 1800s identity of Toronto, which not only creates for a beautiful parallelism with the Spanish influence but also hints at the history and identity of early Toronto.
Website:http://barsataberna.com/
Twitter: @BarsaTaberna
Barsa Taberna Events:
Address: 26 Market Street, Toronto, Canada
On Tuesday November 5th, 2013, 20th Annual Disability Hall of Fame Inductees was held by the Canadian Foundation for Physically Disabled Persons (CFPDP) at The Fairmont Royal York Hotel. Around 300 guests came out to celebrate 5 honorable inductees who made an outstanding contribution in their fields.
Here is a list of inductees who were celebrated:
- Paralympian Stephanie Dixon who was the first Canadian woman in history to win five gold medals in a single Paralympic Games winning 19 medals throughout her career.
- Ramesh Ferris, who is a global leader in the battle to end polio. He hand-cycled more than 7,000 kilometres across Canada to raise money and awareness for global polio eradication, education and rehabilitation and provide humane support and rehabilitation for the survivors.
- Jerry and Annie Johnston who introduced Canada's first program for disabled skiers and were instrumental in the growth of the sport in Canada.
- Founder, publisher, editor and guiding spirit of Abilities magazine connecting 80,000 readers across Canada, Raymond D. Cohen (posthumously)
- This year's Lifetime Achievement recipient is David Crombie who always has time for disability issues, beginning with his Mayor's Task Force on the Disabled, and then, for 20 years the selection committee chair for the Canadian Disability Hall of Fame and gifted MC for every presentation.

After guests enjoyed a delicious lunch, the award-giving ceremony started with a speech provided by CFPDP Chair, Honourable Vim Kochhar. After he presented the awards, each of the inductees made a touching short speech that made guests reconsider about the importance how to view people with a disability. The hall was filled with applause due to the inductees' amazing speeches.
In case you missed the exciting news, we at CityEvents, Toronto's premier event planning boutique, have expanded operations to include CitySocial, our social media management & training division! The new services being offering consist of designing and executing online marketing campaigns for products and events, focusing on social media planning and tactics. Additionally, we will have training and guidance available for those who wish to manage their own online marketing, but are not familiar with social media, or the right strategy for them.
We cater our event planning and marketing services to small and medium size businesses in international trade, arts and culture, and the hospitality sectors, as well as non-profit organizations. We are also offering our new social media services in French and Spanish!
Two weeks ago we had the opportunity to launch CitySocial, as the official social media sponsor of UnExpected '13, the Opening Night VIP Party for the Canadian Special Events Expo. Our team managed online interactions prior to and after the event, and were responsible for on-site promotion of contests, and social media engagement. This recent expansion will now offer our client's the opportunity for one stop shopping at CityEvents, from product and event development, marketing strategies, metrics, and more.
Check out the photos from UnExpected '13 and our CitySocial launch: http://www.flickr.com/photos/cityeventstoronto/sets/72157633048285693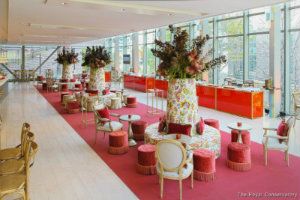 I had the honour of attending Event Showcase Night at The Royal Conservatory's Telus Centre. It was an evening specifically for Event Planners to showcase the glorious hall and various reception rooms. The Telus Centre has an exclusive list of suppliers that commanded our presence that evening. My Uber black car pulled up to 273 Bloor Street West. I walked down a long aisle to be greeted by polite and professional wait staff carrying warm up drinks of some pomegranate coloured, sweet and sour with a splash of sparkling bubbles. I continued down a long hallway (regrettably in my stilettos, albeit it was a walk that entwined both romance and modern art that made the walk oh so spectacular. One wall was composed of a brick wall and a glass enclosure on the other, humbly overlooking the atrium, home to the b'espresso bar, where you will see students mingling amongst classical repertoires.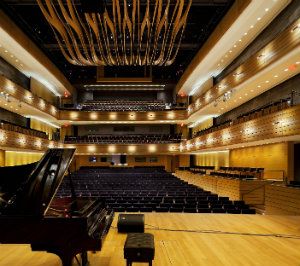 There was a long bar that seemed to run forever outside Koerner HallHall. The bar was built without fridges! Apparently the architects decided that a set of buzzing fridges and noisy ice makers would conflict with the orchestral acoustics in the hall. How brilliant! Libations are kept in buckets of ice that must be refilled regularly.
 A group of exclusive, yet diverse vendors were lined up on the circumference of the main lobby. Behind each vendor, their company name was discreetly but creatively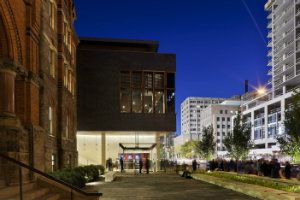 displayed in white font, and appeared to be floating, on the glass window behind them. How tasteful.  Only the finest samplings were provided. It was not your usual chicken on a stick or spring roll offering. There was melt in your mouth, fork tender beef ribs carved in the creamiest polenta ever. There was fois gras stuffed cornish hen. Clearly no expense was spared. But wait, there were also lobster rolls stuffed in those bite size half moon, mini white bread concoctions.
 A beautiful jazz trio, dressed in tuxedos played in the corner of the glass enclosed hall. Could the evening be any more perfect?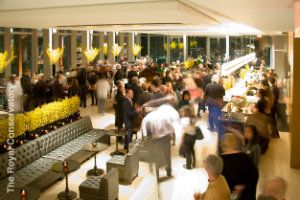 You can rent one of the three floors but why would you? Go big or go home and rent the entire venue. It's a must for your special occasion. Except, all in, it starts at about $50, 000 as you must rent each individual floor and bring in caterers and décor and tables and chairs. Is it worth it? Absolutely.
 If you're looking for a gorgeous venue and your budget has lots of room for incidentals, consider the breathtaking Telus Centre. And put me on your guest list.
The Royal Conservatory, TELUS Centre for Performance and Learning
273 Bloor Street West, Toronto ON M5S 1W2
Outside may have been freezing rain but things were heating up for the 7
th
 Liberty Village Social Hour, at Williams Landing! On Thursday Jan 26
th.
 Liberty Villagers bundled up and headed out to network, socialize and most importantly have fun!  Planned by Rod Ponce of RPC and Deb Lewis of CityEvents, Liberty Villagers were treated to a night of relaxation, amazing door prizes, and a signature Liberty Village cocktail courtesy of Williams Landing at Noche Caliente.  For one evening the January gloom melted away into the chic urban glamour of the neighborhoods' hottest new restaurant. If you missed out on the action, the next Liberty Social Hour is in the works for April 2012.
The 100 or so guests ranged from young professionals enjoyed a post work signature Liberty Village cocktail, from marketing CEOs connecting,  to a retired couple out for an evening of fun. The attendees may have been varied but everyone had one thing in common: Liberty Village! Despite being the fastest growing district in Toronto Noche Caliente Liberty Social Hour perfectly captured the close-knit neighborhood spirit of the Village community.
Chatting with a six-year veteran of Liberty Village, Amelia Paddington, she filled us in on how she became a fixture at the Liberty Social hour. "My husband and I walked into the first one without a clue to what was going on and not knowing a soul, but by the end of the night we had met so many people, some of whom even lived in our building and we had never spoken to! It's gotten so much bigger since that first social hour, but its community events like these that make me love where I live".
Over 20 local businesses generously donated samples, gift cards, and coupons to promote the village and appreciate its residents. We would like to thank our wonderful sponsors: Williams Landing, Mercado, Vocado, Lust for Lashes, Portrait Dental, Dancelology, Brazen Head, Temple Kitchen, Bar Vespa, King West Fitness, Body Food, Magic Oven, Sell Off Vacations, The Floor Studio, Dining Date Night, Liberty Village Eye Care! Everyone left with a gift bag and a smile on their face.
Our wonderful photographers from CityEvents and RPC have posted all the glamour shots from the night at 
http://www.flickr.com/photos/cityeventstoronto
and our video footage will be made available shortly! January may be the longest month of winter, but in Liberty Village they kicked the year off with a bang! Can't wait for the next one!